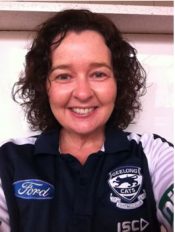 Julie Costello
Alternate Director
Julie is a proud member of the Wilai Foundation who utilizes her skills as a massage therapist and education support officer to enlighten her community about statelessness and to fundraise for the Foundation.
Julie is a caring and supportive person who enjoys tending to the wellbeing of children with special needs.  She has provided a high quality of support and education to children for over a decade. She has developed the knowledge to assist children living with autism, trauma and medical conditions and she is an oral language educator.
Julie lives with her husband, two 'almost grown up' daughters and German Pointer Pooch in Geelong, the home of her favourite football team.