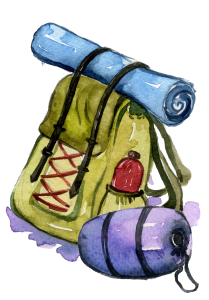 Victorian weather is notoriously changeable. Be prepared for a variety of weather, with the possibility of cold, windy and wet conditions.
It is not necessary to 'dress' for evening meals; casual, comfortable clothing is sufficient.
Essential items
Hiking Boots/Shoes
It is essential that any hiking boots are "broken in" (i.e. walked in/worn every day for at least three or four weeks prior to wearing them on the Walk for Wilai).
There are many hiking boots on the market, and you need to find the best boot for your foot configuration. One recommended brand, that adjusts well to the individual shape of your foot; and has a durable sole and comfortable uppers is the SCARPA brand.
Socks
Wigwam brand Hiking socks are highly recommended.
Day pack
A Day Back Pack – with "camel" water holder inside is advisable.
First Aid kit
You will need a Personal first aid kit that includes a variety of Band aids! For those prone to blisters consider a few Compeeds which are basically a hardcore bandaids that protect while sticking to your skin until your blister has healed.
Rain jacket/Poncho
Long-sleeve shirt with collar (for sun protection)
Sunhat
Long pants
Warm jacket and warm hat
High factor sunscreen
Insect repellent
Sunglasses
Toiletries
Watch or alarm clock
Sleeping Bag
(Make sure it is the right sleeping bag for YOU! See here for some advice.)

Pillow
Walking poles/sticks
(Highly recommended) See further information here.
Torch
Sandals or thongs

**Please note: A Towel will be provided.**