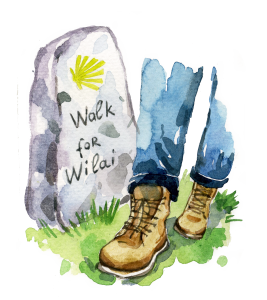 Volunteers Needed!
 It takes a Village to raise a child!
It also takes a Village to bring together such an amazing event,
such as the Walk for Wilai!
If you are not walking [or would only like to do a small amount of walking each day] please consider volunteering!
We need you!
Here are just a few of the roles we still need volunteers for:
bus drivers (for two 12-seaters)
(to help transport pilgrims and luggage)
breakfast & lunch helpers
(to assist with preparation of these meals)
(to be companions/listeners)
(maintaining check points and pilgrims' safety)
(providing support and medical care to the pilgrims)
(providing meals for the support team and pilgrims)
(responsible for purchasing fresh food and supplies)
(responsible for transporting luggage from each accommodation location and
collecting pilgrims as required from remote access areas)
How much does it cost?
Volunteers are HALF PRICE – $750.
What is provided?
 All accommodation, meals, a journal, special T-shirt, plus all the other benefits provided to pilgrims.
You can read further about "What's included" here.
Why not sign up and be part of this unique experience?